New COVID-19 educational resource available to all employees
As we approach the Oct. 31 deadline for mandatory COVID-19 vaccination, we are continuing to update the vaccine policy page with information and resources. One of the resources we have recently added is this online education module about COVID-19 and the Health Canada-approved vaccines. Unvaccinated employees (who are not exempted from the mandatory vaccination policy for a legitimate medical or human rights reason) will be notified that they are required to complete this online course. The course is not required for fully vaccinated employees or those on their way to being vaccinated. However, we are making it available to any employee interested in learning more about COVID-19 and the Health Canada-approved vaccines.  
The graph below is a snapshot of the current vaccination status of our employees and the fee-for-service contractors to whom our mandatory vaccination policy applies. The percentage of our workforce that is fully vaccinated — or on the way there — continues to climb.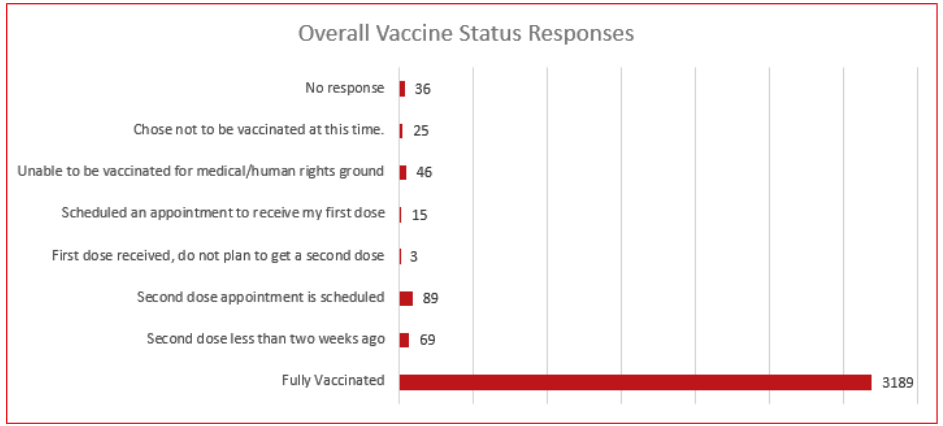 The incredible story of how plasma donations help patients
Ask any person for a single word to describe "blood" and chances are, they'll pick a colour: red. But did you know that red blood cells make up less than half of your blood volume? In fact, the blood coursing through your vessels is mostly comprised of a pale-yellow component, plasma. This pale liquid is just as vital to saving lives as the red cells, and we are currently working to substantially increase collection of plasma to meet the needs of Canadian patients. In this special 'explainer', we tell the incredible story of how plasma donations help patients — from how it's collected and used, to what motivates some of our most dedicated plasma donors, to how we're expanding plasma donation to be more inclusive. You'll also meet some of the grateful recipients whose lives have been changed thanks to plasma. Read more at blood.ca/stories.
Reminder: Join an upcoming Reconciliation Action Plan circle discussion
Since January 2020, Canadian Blood Services has been working in partnership with Quintessential Research Group Inc. (QRG), an Indigenous-led consulting firm, on how to respectfully strengthen relationships and partnerships with Indigenous organizations and communities in Canada. To ensure our work with Indigenous communities is meaningful and ongoing, we are developing our own Reconciliation Action Plan (RAP) with guidance and support from QRG. QRG will be hosting two circle discussions for employees who are interested in providing their perspectives:
For Indigenous employees: there will be an Indigenous-specific circle discussion, on Thursday, Oct. 28 at 1:00 p.m. EST. 
For all employees: join a RAP circle discussion seeking input from all employees who wish to participate, on Thursday, Nov. 25 at 1:00 p.m. EST.  
Employees who are interested in participating in one of the upcoming RAP circle discussions can contact Cristina Scott at scott@theqrgroup.com. To learn more about our work with QRG, watch the recording of our recent lunch and learn.
For any questions regarding this work, please email katie.obrien@blood.ca.
Question of the day: What are we doing to recycle and/or reduce more waste at Canadian Blood Services?

Prioritizing environmental sustainability is a key goal in Canadian Blood Services' strategic plan. We have been measuring our organization's carbon footprint since 2012 and many of our initiatives mirror those areas of our business which contribute to the largest share of emissions (e.g. transportation and fleet services, building operations and waste management).

All of our facilities across the country now follow waste-diversion practices and we recycle everything from bottles, cans and plastic to e-waste, batteries and organics.

We are constantly looking at ways to continue to reduce waste and recycle. A recent success story involves the sourcing of a "green" vendor to provide 100 per cent recyclable water bottles in our donor centres. Another example is the use of pre- and post-consumer recycled materials, which was essential to the LEED certification of our new building in Calgary.

We acknowledge, however, that there is much more work to be done. We are continuing to make operational choices that prioritize environmental sustainability and as part of our organization's strategic plan, we aim to further develop our corporate social responsibility program. Through this program, we will identify where we can make additional contributions that reflect the defining values of Canadian Blood Services and will be encouraging participation and engagement from employees in the coming months.

If you have any site-specific concerns about waste management, you are encouraged to reach out to your local facilities team for assessment.

Additionally, any other environmental sustainability-related questions can be directed to Carlene van der Heiden, manager of environmental sustainability at environment@blood.ca.
Image

About your digest
This digest highlights the latest policy and employee support measures, resources to help you manage our new reality and original content like articles and videos to remind us that what we do matters.  No access to email? No problem — all this information and more can be found on blood.ca/employees from any device, no login required.     
Click here to read past editions of your digest. 
Have questions? Check out blood.ca/employees or email us at communications@blood.ca