Save the date for our next live townhall: Join us on Tues. Oct. 20 a 1 p.m. ET for the next live Q&A with our CEO. Graham will focus on our strategic plan and operational preparedness as we enter what is being called a "second wave" in many provinces. Click the meeting link in this outlook invite to join live; and if you can't make it check-out the event recording on your COVID-19 employee portal. Want to submit questions in advance? Send them to communications@blood.ca with the subject line "TOWNHALL." We look forward to seeing you all there! 
Her Last Project premiers on CBC: Tune in for the national premiere of Her Last Project on CBC, Thurs. Oct. 15 at 8 p.m. ET. The film follows Dr. Shelly Sarwal, a physician from Halifax who, after being diagnosed with an incurable disease, chose to receive medical assistance in dying and donate her organs. As the first person in Nova Scotia to undergo this complicated medical journey, she dedicated the short time she had left to educating health professionals and the general public about being in control of your death and creating a meaningful legacy through organ donation. This inspiring documentary was directed by Rosvita Dransfeld and produced by Canadian Blood Services, in partnership with the Nova Scotia Health Authority, Legacy of Life and the QEII. Help us spread the word by heading over to Connect.  
Spreading the word about stem cell donation is more important than ever: COVID-19 is having an impact on stem cell transplantation. Border closures and travel restrictions have made it more difficult to transport stem cells internationally. The pandemic has also led to an indefinite suspension of in-person swabbing events, which is significantly impacting the recruitment of new potential stem cell donors. However, interested individuals aged 17 to 35 can still join from the convenience of their home by registering online at blood.ca/stemcells. You can also order a swab kit for home delivery by mail! To help, we've created a dedicated stem cell portal of assets and toolkit that you can use to raise awareness for potential stem cell donors. You can also help by sharing the inspiring stories on the impact of stem cell donation below with your social network. 
Family marks stem cell transplant anniversary with appeal to donors: Every day when Scott and Nadine look at their 11-year-old daughter Elsa, they are grateful to the dozens of blood donors and the stem cell donor who helped her beat bone marrow failure. When Elsa was born in 2009, her bone marrow wasn't producing enough platelets, and she also didn't have enough red blood cells. At six weeks of age, Elsa began visiting Toronto's SickKids Hospital because she had become ill. By 10 months old, she required blood transfusions almost weekly to stay alive. She soon became a candidate for a stem cell transplant as that was her only hope of survival. "Elsa's only chance for a cure had to come from a stranger because none of us were a match," says Nadine. "And we were lucky when a match was found for Elsa in faraway Germany, right when she turned one." Read more on blood.ca/stories.  
Two stem cell transplants from one donor saved his life twice: A young truck driver from Dundas, Ont. has an unbreakable bond with a woman from California. Scott Monds, 26, was first diagnosed with acute myeloid leukemia when he was 23. He was quickly received chemotherapy, but it soon became clear that his best hope of long-term survival was a stem cell transplant. Danielle, 35, vividly remembers the day she was called to help save a life. "My family and I were on a Disney vacation," says Danielle, who lives with her husband and their three children in southern California.  "I just started crying, and my husband and kids were like, 'What is happening? What's wrong?'" she recalls. "And I told them I was a match for somebody." Danielle had joined a stem cell registry in the United States two years earlier after losing her brother. "Keeping my brother's memory alive was something my mom and I had both promised him, and so I just thought, 'What better way to serve that purpose than to sign up?'". Read more on blood.ca/stories. 
Question of the day: When I am going through the employee wellness checkpoint at our sites, can I take my temperature via my wrist?  
No. All temperature checks administered at wellness checkpoints should be done two finger lengths away from your forehead. 
Ensure you wipe hair and sweat away from your forehead and avoid any draft.  Hold the thermometer two fingers length away from your forehead. Once you have done so, press the trigger to administer your temperature check.  
For step-by-step instructions on how to self-administer employee temperature checks, please view our "how-to" video available on your COVID-19 employee portal. This video is also streaming daily on Connect TV across our sites.  
Mandatory temperature checks for employees, volunteers and contractors have been implemented across all Canadian Blood Services as one of the many ways we are protecting our teams, donors and essential operations.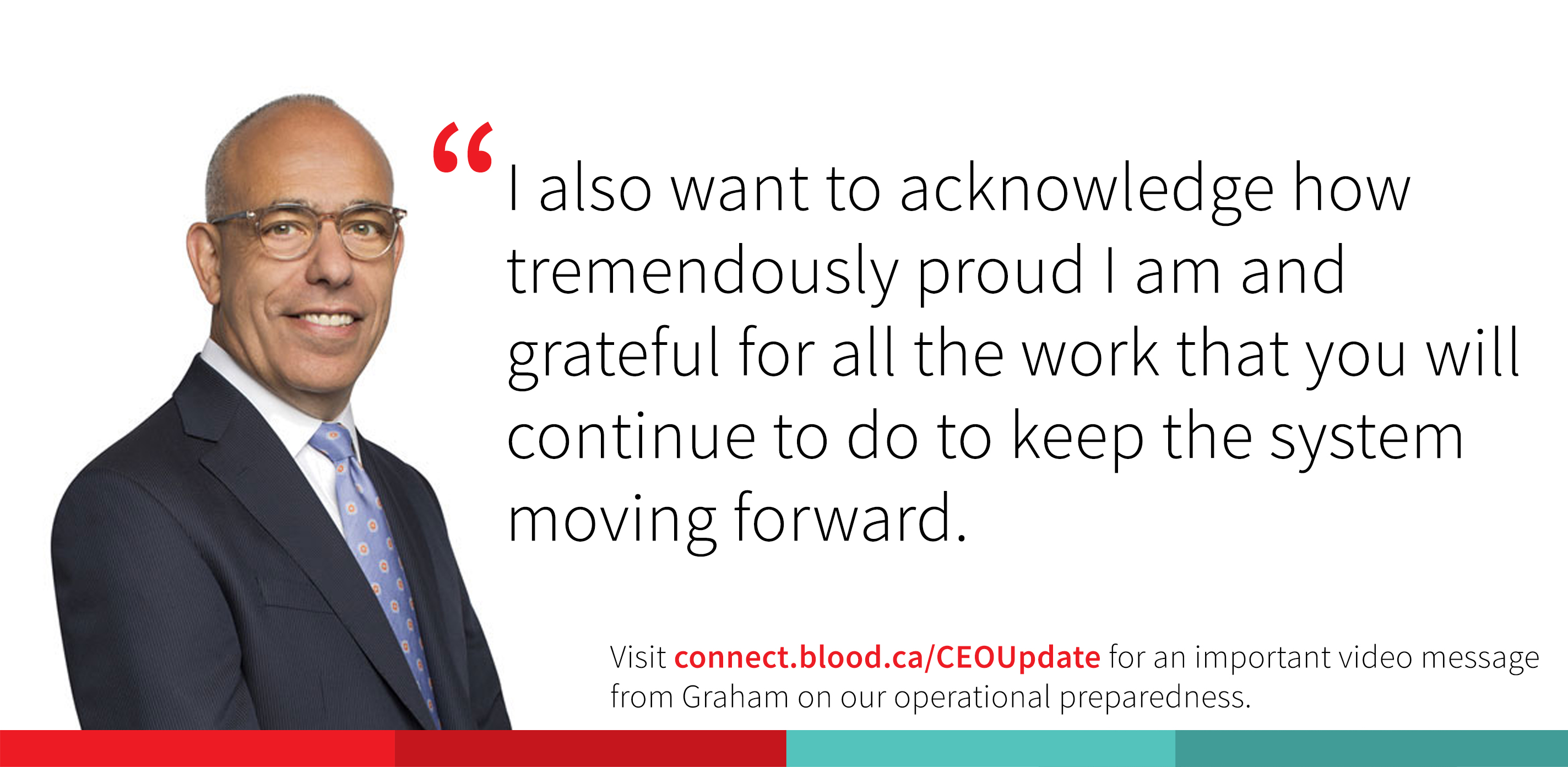 About your digest    
This digest will highlight the latest policy and employee support measures, resources to help you manage our new reality and original content like articles and videos to remind us that what we do matters.  No access to email? No problem — all this information and more can be found on blood.ca/employees from any device, no login required.      
Click here to read past editions of your digest.          
Have questions? Check out blood.ca/employees or email us at communications@blood.ca