Update on COVID-19 vaccination reporting  
The proportion of our workforce that is fully vaccinated, or on the way to being fully vaccinated, continues to increase. Last month, all employees and fee-for service contractors were asked to attest to their vaccination status as per our mandatory vaccination policy. Managers are continuing to follow up with those who have yet to report their status, as well as those who are not fully vaccinated. By Oct. 31, 2021, we expect all eligible Canadian Blood Services employees to have received both doses of a Health Canada-approved COVID-19 vaccine. We will continue to provide regular updates as we move toward the Oct. 31 deadline. The numbers in the graph below will change as people complete the vaccination process, as requests for exemptions are processed, and as those who have not yet reported their status provide that information. Read more about our vaccine policy and next steps on Connect.  
 
Image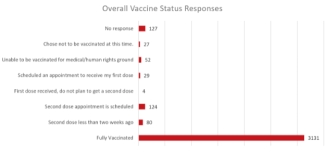 Plasma donation gets a boost from Sikh Nation 
After her father's unexpected death this past summer, Bunvir Kaur wanted to honour him in a way that continued his legacy of service to others. She chose Canada's Lifeline as a cause to support since she and her father had previously participated in a blood donation campaign held by Sikh Nation, one of Canada's largest blood donor groups. "As a youth, I accompanied my dad and volunteered in [Sikh Nation's] campaign," says Bunvir. "Now, I hope to keep his dream alive by giving back to the community."  
Sikh Nation's campaign in Kelowna, B.C. is currently evolving to support patients through plasma collection. That's because last spring, Canadian Blood Services closed its blood donor centre in that community and opened a new plasma donor centre. Through her involvement with Sikh Nation, Bunvir is now helping to encourage plasma donation in her community, in honour of her late father. Read Bunvir's inspiring story on blood.ca/stories and learn more about the impact of our partnership with Sikh Nation.  
Missed the latest live town hall event? Catch up on Connect  
On Sept. 28, we marked our organization's 23rd anniversary with an employee townhall led by our CEO, Dr. Graham Sher. The event kicked off with a special video featuring an individual who joined our organization after her own life was saved by the gifts of donors; an important reminder that what we do matters. Dr. Sher was joined by panelists, Dr. Isra Levy, vice-president, medical affairs and innovation, and Judie Leach-Bennett, general counsel and chief risk officer. They answered questions on a range of topics: from the mandatory COVID-19 vaccination policy, to the benefits of a third vaccine to our planning for return to office and more. Visit Connect to read all the highlights from this week's event and to access the full town hall recording. You can also read Graham's personal reflections on Canadian Blood Services' 23rd anniversary in his latest Snapshots blog post.   
Question of the day: Now that the first National Day for Truth and Reconciliation has passed, what can I do to actively participate in reconciliation? 
Yesterday, we marked the inaugural National Day for Truth and Reconciliation as one small step toward our organization's broader reconciliation goals.  
We know that the work to mend the pain and intergenerational trauma experienced by Indigenous communities in Canada extends far beyond one statutory day. We all have a role to play in reconciliation. While we cannot erase our difficult history with Indigenous communities overnight, we can commit to listening, learning and becoming better allies.  
 
Employees are encouraged to continue to access educational resources about Indigenous inclusion and allyship on Connect, including new resources from our employer partner Canadian Centre for Diversity and Inclusion (CCDI). From Oct. 6–Nov. 4, CCDI will be hosting multiple sessions on Indigenous inclusion. The sessions will take participants through the Truth and Reconciliation Commission's calls to action and provide examples of ways we can all work towards meaningful reconciliation. 
 
To ensure our work with Indigenous communities is meaningful and ongoing, we are continuing to partner with the Indigenous-led consulting firm Quintessential Research Group (QRG), to develop our own Reconciliation Action Plan (RAP). Those who missed the special lunch and learn session with QRG earlier this week can access the recording here.  
Employees who are interested in participating in one of the upcoming circle discussions led by the QRG can contact Cristina Scott at scott@theqrgroup.com: 
 
For Indigenous employees: there will be an Indigenous-specific circle discussion, on Thursday, Oct. 28 at 1:00 p.m. EST. 

For all employees: Join a RAP circle discussion seeking input from all employees who wish to participate, on Thursday, Nov. 25 at 1:00 p.m. EST.  
Finally, Indigenous employees are also invited to join our BIPOC (Black, Indigenous and People of Colour) employee resource group. This group is a forum for employees to connect with colleagues with shared backgrounds and common identities, in order to build community and a sense of belonging at work. For more information or to join, please contact katie.obrien@blood.ca  
Anyone wishing to learn more is encouraged to review the Truth and Reconciliation Commission's calls to action at nctr.ca  
Image

About your digest
This digest highlights the latest policy and employee support measures, resources to help you manage our new reality and original content like articles and videos to remind us that what we do matters.  No access to email? No problem — all this information and more can be found on blood.ca/employees from any device, no login required.     
Click here to read past editions of your digest. 
Have questions? Check out blood.ca/employees or email us at communications@blood.ca