New plasma donor centre in Sudbury welcomes its first donors:
Today, our frontline team in Sudbury were part of a historic moment for Canadian Blood Services. This morning they welcomed the first donors to our new dedicated plasma donor centre in Sudbury — an important milestone in supporting a growing need for plasma for patient care. "We are excited that our dedicated plasma donor centre is now open and we are welcoming donors through our doors," said Teri-Mai Armstrong, business development manager. "COVID delayed construction on our new plasma site in Sudbury, so we are operating for now at the same location as our former blood donor centre."
Shannon Morrison was the first person to donate plasma today in Sudbury. Her son, Heydan, has a rare immune deficiency. Every three-to-four weeks he receives intravenous immunoglobulin – a medication made from donated plasma. "Until it affects you, you don't think about donating," says Shannon. This morning, little Heydan, along with his mother and grandmother were grateful to have the opportunity to meet other plasma donors and the Canadian Blood Services employees responsible for collecting plasma. The new plasma donor centre in Sudbury is the first of three new dedicated plasma donor centres to open across Canada. Learn more about this historic moment and how we are supporting the growing need for plasma on blood.ca.
Image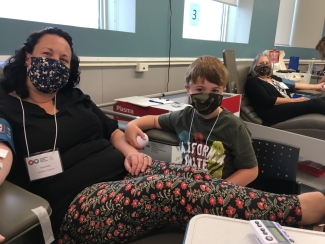 Family thankful to donors after toddler survives ingesting a battery: They say that a split second can change your life forever. 18-month-old daughter Amélie was rushed to hospital when her mother, Leslie saw her collapse and go stiff. After an extensive cardiac surgery, doctors in the ICU determined that Amélie had swallowed a button battery. She was placed on a bypass machine as she had lost a lot of blood. "In the operating room alone, Amélie received 4.2 litres of blood - without blood donors, our little girl wouldn't have survived" says Leslie. Amélie was in the ICU for 11 days and received many transfusions, draining old blood from surgery and replacing lost platelets. Little Amélie is now home and recovering wonderfully with the help of a gastrointestinal tube, to help make sure she gets enough nutrition. Read more about Amélie's story on blood.ca/stories.
Make sure you are registered for MFA: Earlier this summer, we started upgrading our multi-factor authentication (MFA) system to improve your online security when using Canadian Blood Services computers and apps. That upgrade is now complete, so if you haven't registered for MFA you will now be prompted to do so when trying to access important tools like VPN, Office365, Connect.blood.ca and IT Helps. If you've registered previously, please go to the MFA portal to make sure all of your information is current. If your information is outdated, you may experience problems with MFA in the future. Learn more about registering for MFA and why it is important to protect you from cyber threats on Connect.
10 tips to plan a successful staycation: All summer long, we've been bringing you local getaway ideas to help plan a safe, stress-free vacation that is closer to home. With the summer months coming to a close, we are showing you some ways to squeeze a little extra out of any remaining long-weekends — even during a pandemic. Whether you're looking to get out of your comfort zone, or do something to give back to people in need, head over to Connect to learn more about how you can make the most out of the last couple weeks of summer.
Question of the day: Recently, there was news that some brands of hand sanitizer were recalled. Are we providing any of those brands to Canadian Blood Services staff?

We are closely monitoring manufacturer recalls to make sure that our supply of PPE and products, like hand sanitizer, are safe and effective. We are aware of the recent recalls on some brands of hand sanitizer and can confirm that the products we provide our teams are not affected.

To further protect the safety of our employees, volunteers and donors, we are quarantining and returning PPE donations received directly at our sites that have not been vetted by our quality assurance team. We do this with an abundance of caution, as these products may not meet our requirements and safety standards.

If you have questions about the PPE and safety products provided to our teams, please reach out to procurement for more information.
Image

About your digest   
This digest will highlight the latest policy and employee support measures, resources to help you manage our new reality and original content like articles and videos to remind us that what we do matters.  No access to email? No problem — all this information and more can be found on blood.ca/employees from any device, no login required.     
Click here to read past editions of your digest.
Have questions? Check out blood.ca/employees or email us at communications@blood.ca