A key piece of work that will guide our decisions is a facilities assessment. This work will determine how many employees we can safely welcome back to the office in each phase:
The supply of space will go down with physical distancing requirements. 
Physical distancing means 100% of employees will not be able to return 100% of the time.
Who comes back will need to be balanced with ensuring the safety of employees who are already working in the facility daily.
Employees who are currently working from the office but have the ability to work virtually may be asked to vacate the office to make space for those who require the office.
Safety remains our number one priority and will guide all the decisions made. Our return to office process will go in phases and may vary across locations. The phases will be triggered by requirements across jurisdictions and the readiness of sites to receive employees. The timelines will be decided when we have assurance we can proceed safely. Rest assured, employees will be given plenty of notice and individual circumstances will continue to be a consideration.
We won't be returning to what the office looked like prior to the pandemic. We are working toward a new workplace of the future.
Image

We need to balance our heads and hearts as we work through the phases and as we determine who needs to return: the "demand", balanced with the capacity of our sites: the "supply".
Our heads will seek out the operational need to return and our hearts will understand there are personal circumstances and employee safety to consider.
Image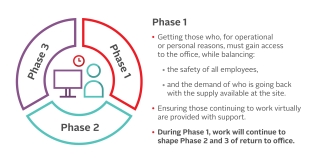 Phase
Who
Timing
Phase 2

More employees return

More employees that want to return in a controlled manner

Not before calendar year 2021
Phase 3

Workplace of the future

Reimagined workplace of the future
Reintroduce all employees who can and want to return

TBD
Some employees may work only virtually or only in the office, while for others it will be a combination of the two, largely in consideration of operational requirements, an ability to work virtually, and employee preferences. Additional supports and guidelines for employees working and/or leading virtually are in development.
Who will return in each phase and how a return will occur is still outstanding, but further information will be provided as it becomes available. A data collection tool has been created by IT for managers to complete and help guide the project team in understanding who needs access to the site.
When will phase two start?

Phase two is focused on accommodating employees who have indicated they "want to return" and is scheduled for January 2021.  
The facility and health and safety evaluations are currently underway and will guide us for phase one and two.
As we approach phase two, we are also further developing its scope and mandate to support us as we continue to manage with COVID-19 restrictions such as physical distancing. 
Do I need to return (ever) if my work can be done virtually?

As our work progresses into phase three of this project, we will have to develop a future vision for our workplace.  
This work will help us answer questions on how we want to operate as individuals, teams and organizationally.  
This picture will be informed by what we have learned as related to our ability to work virtually (for most office employees) over the last six months.  
It will also be informed by the employee experience, organizational drivers and external factors including how work norms will change around us. 
I am having personal challenges at home, and I am not comfortable sharing. How can I express my need to come back to office while protecting my privacy?

Phase 1 includes getting those who, for operational or personal reasons, must gain access to the office. If you have a personal reason for returning to office you can express this to your supervisor and do not need to share the reason. If you need support, please reach out to your PCP business partner. 
What if my manager and I don't agree on whether or not I need to be in the office – who can support me?

Phase 1 includes getting those who, for operational or personal reasons, must gain access to the office. If you and your supervisor have differing opinions, and you need support, please reach out to your PCP business partner. 
How is CBS supporting employees who don't have an option of working from home, will there be compensation?

The pandemic has forced everyone to adapt to many unexpected challenges as we fulfill our mission of supporting Canadian patients.

Our focus is and continues to be on the health and safety of all employees, recognizing employees are impacted in different ways. Employees who are able to work from home continue to be encouraged to do so, this helps maintain fewer employees in our sites to protect our critical supply chain activities. We continue to be thankful for the contributions for employees who must come into our various work environments and we provide supports for their health and safety.  

Some of the ways that Canadian Blood Services have offered compensation to those frontline employees include, maintaining compensation at 100% of pre-COVID-19 pay for those who faced reduced hours from COVID-19 and full pay for those unable to work due to COVID-19, either personally or due to caregiver duties. 
Will Canadian Blood Services issue completed and signed Form T2200s, so employees who have been asked to work from home deduct expenses paid for the employment use of workspaces in their homes? 

Canadian Blood Services is monitoring the direction from the Canada Revenue (CRA) regarding issuing Form T2200s related to COVID-19. The payroll team typically issues T2200s in February-March of the following year. Currently, we are not aware of when the CRA will release additional guidelines. The Canadian Payroll Association has raised this issue with the CRA, and we are closely monitoring it. 
How can I set up my workstation at home successfully and with ergonomics in mind?

It is important keep in mind the effects on your health, safety and productivity when setting up your home workstation.    

Employees working from home are encouraged to visit our ergonomics page on Connect to get tools on how to successfully set up a temporary home office. On the page you will find helpful information, including how to properly set up your computer monitor, incorporate a sit/stand desk into your setup and stretching exercises that you can incorporate into your day.  

Another exciting feature of the ergonomics page is our virtual assessment tool. To receive a virtual ergonomics assessment personal to your needs, fill out the form and submit it to your manager. From there, your manager will send it to the OHS/EHS team who will schedule a virtual assessment with you.  
Can I go in and get my monitor and other items from my desk?

We ask that only employees who have an operational imperative or essential task that impacts our products and services for patients enter our facilities.  

However, if you think you need to enter a facility to retrieve something from our workspace essential to your work, please discuss your situation first with your supervisor. In that discussion, please consider the risk of not completing the task you need to do or delaying it for a few weeks vs. the risk you may create for other essential staff and our operations by going into the facility.  

If you will be entering a site to gather essential items, such as files, monitor, keyboard or mouse, please promptly exit the building afterwards. Furnishings including chairs, desks and tabletops are not to be removed as these will be needed to support RtO planning.  

Furnishings cannot be removed because they will be needed as employees return to the office, additionally, there are cleanliness and healthy & safety concerns. The items required for employees to work from home can be addressed through the OH&S group through an ergonomic assessment, and there will be support being rolled out through the Flexible Workplace Guidelines.  
When will Canadian Blood Services be reopening its fitness rooms?

We know that exercise in an important part of health and wellbeing and we can appreciate that those who are working on-site as our essential frontline workers are keen to use the gym amenity. 

At this time, gyms continue to be closed. This is a decision made with an abundance of caution to ensure the safety of our employees and vital operations. We will be reviewing our gym spaces as part of the return to office plan. That assessment will consider factors including safety, risk and readiness. Given the critical nature of our operations, we will not be aligning our internal decisions on gym opening with public for-profit facilities.  

Although the on-site gyms are closed, our healthy workplace team is making sure that resources are available to keep staff healthy both physically and mentally. If you haven't already, we encourage you to sign up for live virtual fitness classes  
I can work virtually, but I don't have the proper IT equipment to do so. How do I get what I need?

All employees who currently have the ability to work virtually have been encouraged to do so until further notice.  

An overview of the tools required to work from home can be found here. This is an excellent resource to make sure you have everything you need to work from home effectively.  

If you do not have the tools to work from home, please speak with your manager to put in a request. Once the request has been approved, you will receive an email from IT inviting you to come to your local office to set-up and bring home your equipment.  

Your health and safety are a priority — wellness checkpoints have been set up at the entrance of all Canadian Blood Services facilities with instructions on hand sanitizing, self-screening and temperature taking .  

When you arrive and successfully complete the wellness checkpoint, please ask the front desk to speak with IT field support. For the health and safety of yourself and our IT employees, your interaction will be limited to one member of our IT team and equipment will be taken out of the box in front of you to limit the possible risk of infection. Where possible, we ask that you keep a two-metre distance from other employees.  

If you are feeling anxious about coming into your local office to retrieve your equipment, please notify your manager to receive further guidance.  
Will CBS be compensating work from home employees for office equipment?

There are new Flexible Workplace Guidelines that have been developed. These guidelines address the need for some financial support, you can find details on the Flexible and Virtual work page here.
Who is currently allowed to work in Canadian Blood Services facilities?

Employees who have operational imperative or an essential task that impacts our products and services for patients. If you are unsure whether your role qualifies, please speak with your supervisor.  
I have been working remotely but I need to go into the office to retrieve materials or observe a process. What should I do?

If you think you need to enter a Canadian Blood Services facility, please discuss your situation first with your supervisor. In that discussion, please consider the risk of not completing the task you need to do or delaying it for a few weeks vs. the risk you may create for other essential staff and our operations by going into a facility.
If you need to enter a Canadian Blood Services facility, please ensure that you well, symptom-free and aware of all the COVID-19 measures in place including mandatory masks and Wellness Checkpoints. At the Wellness Checkpoint, staff will answer questions, wash hands or use hand sanitizer and their body temperature will be taken.   
 It is now mandatory to wear a mask in all Canadian Blood Services facilities. Please visit the Personal Protective Equipment page for more information: https://www.blood.ca/en/employees/ppe. 
Is leadership considering making changes to the configuration of office space so there's more physical distance in between cubicles?

Significant consideration is being given to how employees will return to the office. As part of our planning, we need to understand who will return, when they will return and how they will return.

While you are seeing restrictions ease across the country, the pandemic is still continuing along with public health guidance on physical distancing.
Physical distancing will really impact how much room "supply" will be available for employees to work in.
This means we can't have 100% of employees back 100% of the time.
Our sites will have to be prepared to accept employees back, while mitigating any risk.

We are assessing the configuration of our working and common space to ensure that when employees are asked to return to the office, that they can maintain physical distancing.
How will employees be engaged in the process?

We have a dedicated team working with leadership on a return to office and virtual work plan.
We understand that employees have a lot of questions on this topic. Return to office and virtual work will be an ongoing process and we'll be opening up conversations and using surveys to engage employees.