Canadian Blood Services wins innovation award from Canada Health Infoway
Canadian Blood Services wins innovation award from Canada Health Infoway
May 2013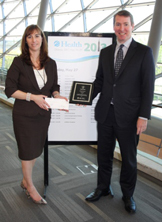 Canadian Blood Services' online booking tool placed third in a national challenge aimed at accelerating the use of e-scheduling innovative solutions.
The challenge was launched by Canada Health Infoway, which believes turning bold new ideas into innovations that matter to Canadians is key to the future of healthcare. The hope was to help speed up the process to improve patient experience and overall healthcare quality.
The online booking can save time and hassles for both donors and the organization. In fact, data shows that people who book online are more likely to keep their appointments.
"Like Infoway we recognize the need to adapt with the digital age and develop quality e-solutions to improve our donor experience and ultimately healthcare quality," says Mark Donnison, vice-president, recruitment.